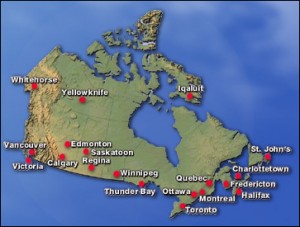 Central Canada is a temperate region in the summer months and a frigid region in the winter months. It is comprised of Boreal forest land, which includes coniferous and deciduous trees spread across a much less mountainous terrain than Western Canada. This is the landscape that surrounds the larger cities of central Canada, such as Saskatoon and Regina, Saskatchewan, and Winnipeg, Manitoba. These are some of the largest cities in all of Canada, but their geographic locations, size and primary function make them very unique among Canadian cities.
Saskatoon, Saskatchewan is of course named after the delectable Saskatoon berry that grows in the area. The city was established in 1882 on the banks of the South Saskatchewan River and is a city of 300,000 residents presently, but is one of the fastest growing cities in Central Canada. Saskatoon's economy is based primarily on agriculture, mining and oil, and is home to two thirds of the world's potash reserves, which is a potassium rich salt. Saskatoon is the most central city location in all of Canada, making it one of the busiest international airports in Canada.
Regina, Saskatchewan is the capitol of the province, but is the second largest city in the province. Regina is the cultural and commercial center of Saskatchewan as well. Regina is commonly known as one of the best midsize cities to live in within all of Canada. Geographically, Regina is unique among Canadian cities because it is situated on a flat, treeless plain instead of within Boreal Forest territory. The city is home to a number of government buildings, a university, museums, art galleries and theatres. The cities population of nearly 240,000 have overcome cyclones, riots and economic depressions to rise to a prominent economic standing.
Winnipeg, Manitoba is the province's largest and capitol city, situated at the confluence of the Red and Assiniboine Rivers. Historically founded as a trading post, Winnipeg is presently one of the most populated cities in all of Canada. The city is known for its multiculturalism and event presentation, which includes the Winnipeg Folk Festival and the Jazz Winnipeg Festival. Winnipeg is also known for its sports enthusiasm.